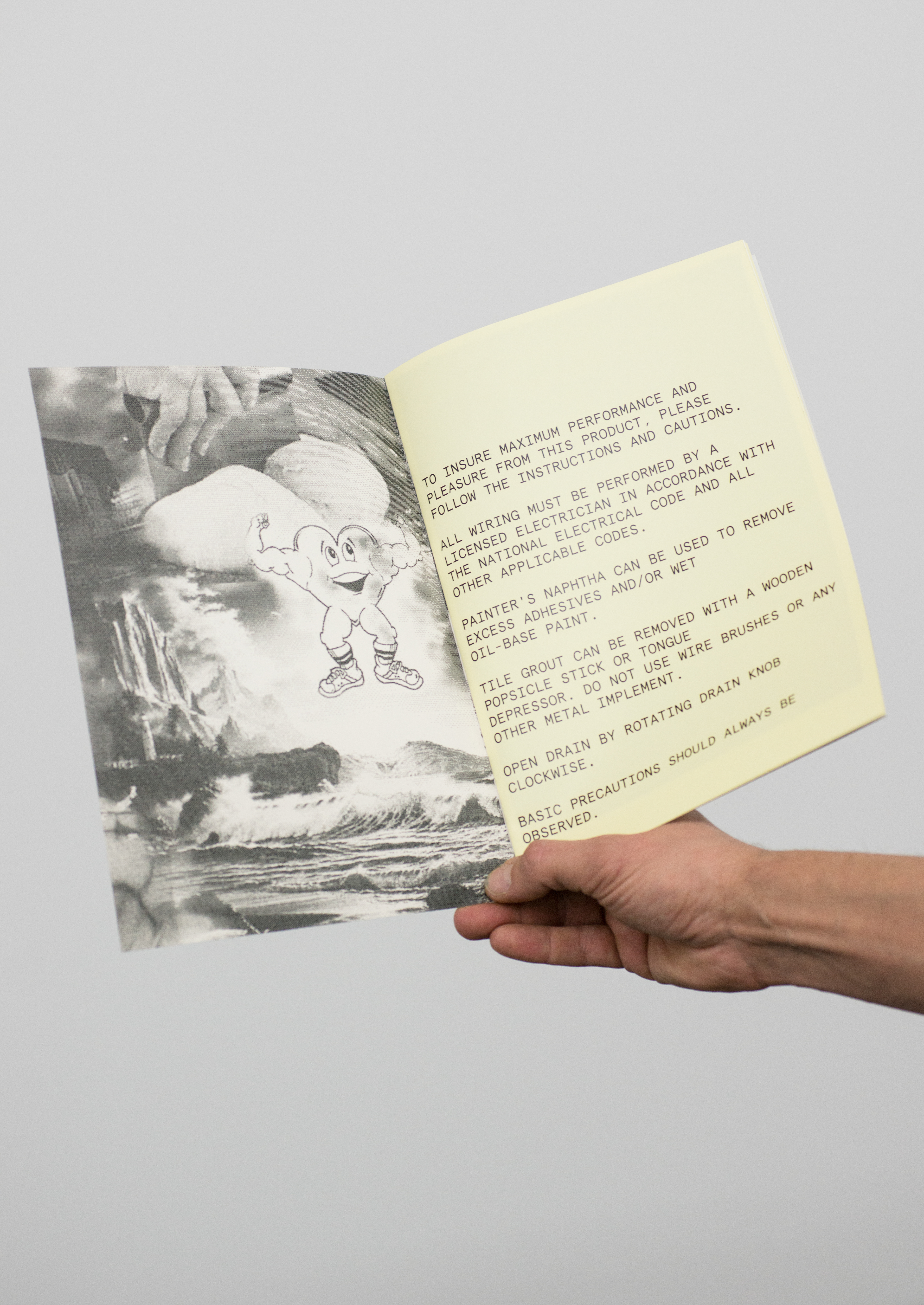 'Basic Precautions Should Always Be Observed' 
duoshow with Vera Kox (sculptures)
DUVE gallery Berlin Germany 2015
DUVE Berlin is proud to present *Basic Precautions Should Always Be Observed*, with paintings by Manor Grunewald and sculptures by Vera Kox produced specially for this exhibition. What unites Grunewald and Kox is their shared interest in material transformations applied to everyday objects; the exhibition title refers to the precautionary remark to be found in instruction manuals for industrial products, but which the artists here choose to disregard. By submitting familiar images and objects of manipulation and experimentation, Grunewald and Kox transform our understanding of them, investing the everyday with a sense of levity and wonder.
Vera Kox's work draws on an interest in sculptural materiality. Set within an aesthetics of normative production and emphasising a sensual experience of matter, Kox transforms industrially produced objects - like raw pot noodles and anti-slip bath mats - through a process of casting, manipulating and restructuring. Through these transformative processes, she plays with our notions of materiality and teases out aesthetic qualities of familiar objects which might otherwise go unnoticed. In Subtracted bleeds* (*and additives), the abstract colour-block structures seem pliable and fluid but are in fact solid, creating an interplay between the visual and the haptic and subtly challenging our preconceptions. Original source material is distorted and disguised, only to reveal its industrial origin on closer inspection. The raw and temporary is given priority over the highly finished and monumental. Strategies of display engage with our sense of movement and inertia: bashed-up blocks of matter are arranged and tied together in a modular pyramid whose stability is uncertain; a gaping mass suspended from the ceiling threatens to drop at any moment, like a damoclean sword.
Manor Grunewald considers himself first and foremost a painter, yet the starting point of his works is often found in printed material, from comics to recipe books, scraps of paper and plastic, among other production material lying around his studio. This source material is transformed through an experimental process of copying, enlarging, extraction and digital manipulation, and subsequently combined with images from the artist's own extensive pictorial archive. Untitled (Rennie#08), for instance, uses a cookbook photograph of a chicken breast as its starting point, transformed to the point of becoming abstract, with only the title (a reference to the antacid tablet) attesting to its culinary origin. Going beyond the traditions of abstract minimalist painting, Grunewald's work is concerned with the dichotomy between original and reproduction, industrial and hand-made, art and industry. Through his experimental approach to materials, he investigates the intersection between these multiple fields, and creates a narrative within the exhibition space which invites viewers to reflect on making, content, and effect of images present in our everyday lives.